April 14, 2010 at 9:58 AM | Posted in
cupcakes
|
20 Comments
Tags:
Alice in wonderland
,
bunny
,
Easter
,
rabbit
Ten days late to be exact.
Was Easter really 10 days ago? Wow. I'm losing track of time (not to mention my mind)!
This month has been extremely busy at the Cuppycakes household. I had/have multiple Easter cupcake orders, 2 birthdays, Cupcake Hero, Food Blogger Bake Sale and various school functions to bake for. Add all that and being sick on my days off (Arrrgghhh! The gods are against me!), well you can imagine, it's been NUCKING FUTS over here! (It's not cussing if I change the order of the letters right?)
Don't get me wrong! I'm not complaining about how busy my kitchen has been lately. I embrace all orders and I still feel so flattered that ppl actually wanna pay me to bake them cupcakes. Me? Little ol me. It's kinda surreal when I think about just a few years ago I could barely fill the cupcake liner without it overflowing. Every. Friggin. Time. Remember those days, Nikki? Good times…
I just feel like I'm constantly saying SORRY READERS these days. It's actually brought me to a point where I am contemplating giving up Cupcake Hero for lack of time and energy so I don't have to say SORRY READERS quite as often every month. I haven't made any firm decisions yet though. B/c I love Cupcake Hero. It was the first foodie event I ever participated in. I have a special place in my heart for it. I don't want it to die. Any suggestions about how to keep the integrity of Cupcake Hero alive with lower maintenance would be welcome.
And if you are gonna ask me if I'd like some *whine* with my cupcake.
I'll say… Yes Please. Make it Moscato. Thanks for asking.
And one more… SORRY READERS… for the road.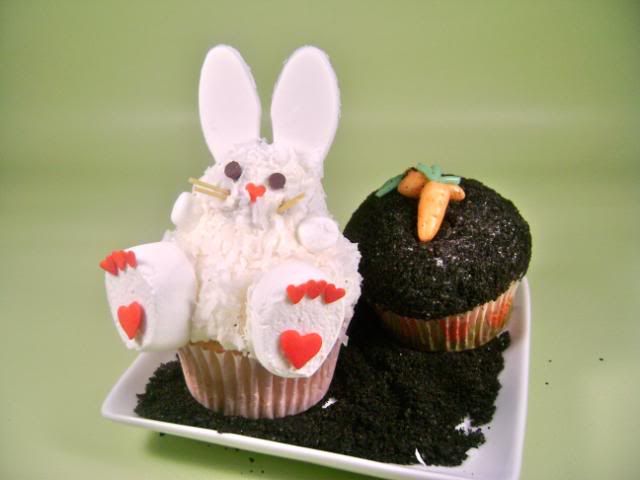 Alice in Wonderland Easter Rabbit Cupcakes
Recipe adapted from What's New, Cupcake by Alan Richardson and Karen Tack
Makes 12 cupcakes
INGREDIENTS
Your favorite 12 vanilla cupcakes recipe, cooled to room temperature
canned vanilla frosting (I used 2 cans Duncan Hines classic vanilla)
white fondant (I used Satin brand)
bunny cookie cutter
24 mini chocolate chips
24 mini marshmallows
12 jumbo marshmallows
84 mini heart sprinkles
24 jumbo heart sprinkles
uncooked thin spaghetti noodle
coconut
INSTRUCTIONS
To make fondant bunny ears—
Roll out fondant to about 1/8″ thickness. Use the bunny cookie cutter to cut out the "ears" and let dry on a parchment paper lined cookie sheet overnight to become firm. I always make more than I need b/c it's inevitable that more than 1 will crack and break.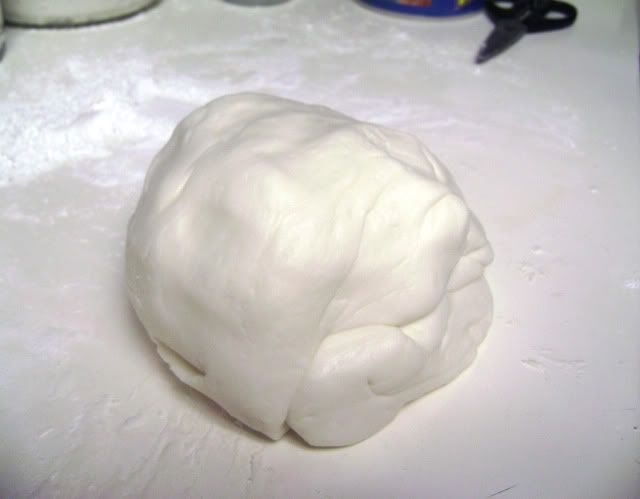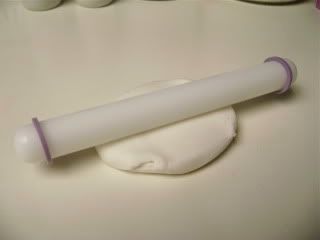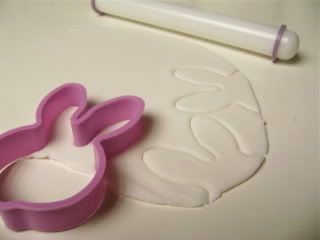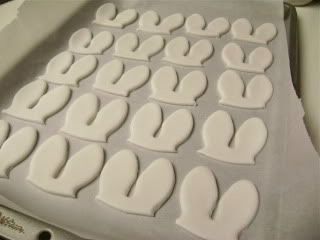 To make bunny feet—
Cut each jumbo marshmallow in half. Arrange 3 mini heart sprinkles as toes at the top of each marshmallow half and 1 jumbo heart as the foot pad on the bottom. (If sprinkles don't stick on their own to the fresh cut marshmallow, you can also use some corn syrup to make them stick.) Repeat for all jumbo marshmallows until you have 12 sets of feet.
To assemble cupcakes—
Dollop a good amount of frosting on the top of the cupcake. Using an offset spatula, spread the frosting out around the edge and create a "mound". Place a donut hole close to one edge of the frosted cupcake. Let chill in freezer for about 15-20 minutes until firm.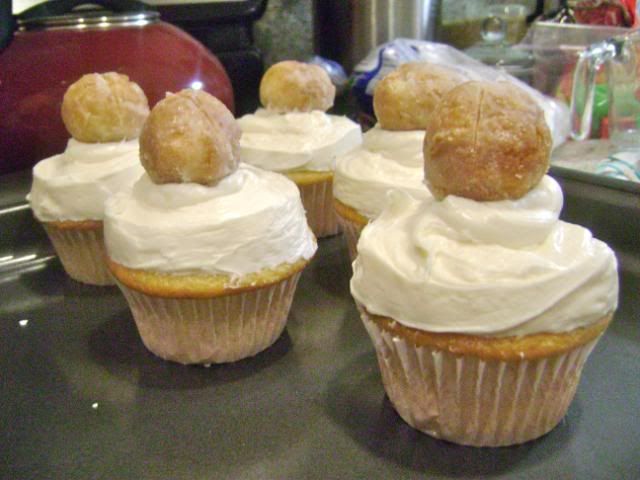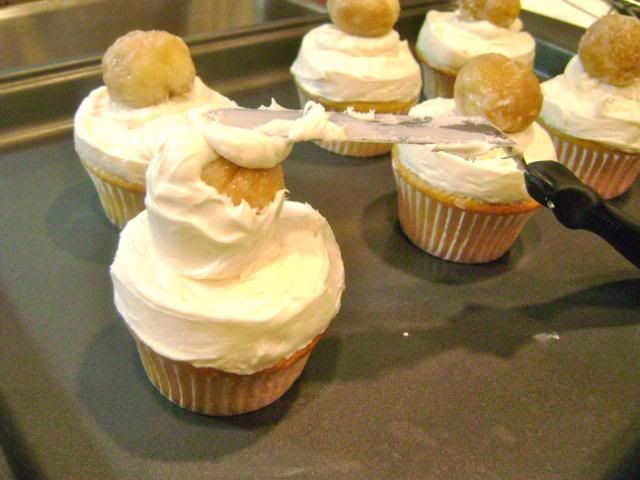 Cut a slit 2/3 way down in the donut hole. Spread more frosting around the donut hole being careful to keep the slit visible. Add frosting to both sides of the fondant ears as "glue" and insert in the slit in the donut hole. Don't press down to hard or the donut hole (rabbit's head) could break in half.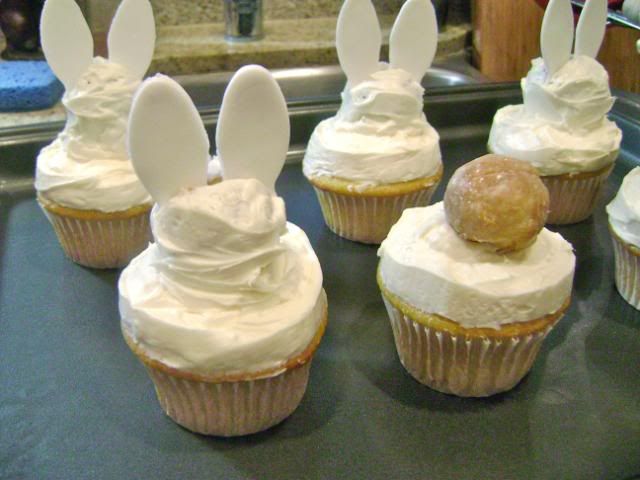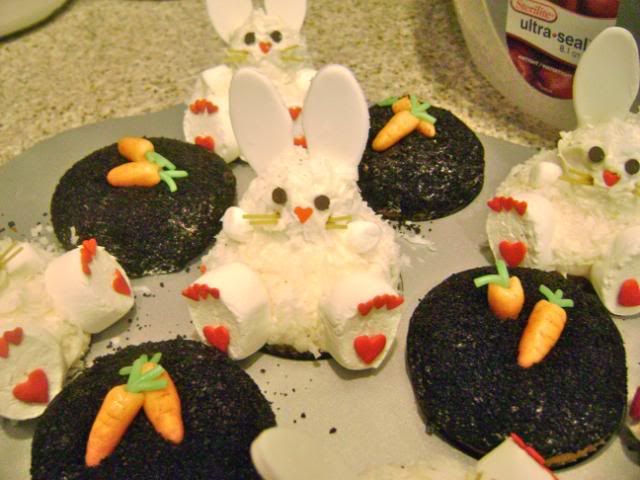 Cover the rabbit body and head with shredded coconut. Add frosting to the back of the rabbit feet and press gently into the cupcake. You might have to hold it for a little bit to get firm and stick. Push 2 mini marshmallows right under the donut hole off to the side for the hands. Add 2 mini chocolate chips (points into the frosting) for the eyes. Break off thin spaghetti noodle into 1/4″ increments and insert for whiskers. Add a mini heart for the nose. Repeat steps for additional rabbits.
ENJOY!
Husband rating: A+
As soon as he saw them he proclaimed them "Alice in Wonderland" rabbits. I think it's the red hearts.
Wifey rating: A+
Ever since he said that I've been thinking about how to make a Cheshire cat cupcake. I've been doodling frantically in my notebook. If you have What's New Cupcake at home, don't you think that the Tail Of 2 Critters on page 92 could be changed into the Cheshire Cat? I have a feeling I know what my next project will be!
Other rating: A+
I made these for our family's Easter dessert and everyone loved them. My husband's youngest cousin (13 years old) ate 2 rabbits and proclaimed that frosting and donut holes are "… da bomb!" HA HA
« Previous Page
—
Next Page »
Blog at WordPress.com. | The Pool Theme.
Entries and comments feeds.