May 7, 2010 at 10:31 PM | Posted in
how-to
|
18 Comments
Tags:
cake stands
,
cupcake stands
,
DIY
Confession: I have a cupcake/cake stand fetish. Whew! So glad I got that off my chest. Admission is step 1 in my program.
I have square ones, round ones, mini ones, wire ones… But I'm always in awe of the DIY versions that I find online or via fellow cupcake freaks that emailed them my way. I guess I have those poor souls fooled into thinking that I can actually make one of them. Suckers.
Just thought it would be fun to share a few of my favorites with my readers.
Click "source" for the direct link with instructions for each project.
***********************************************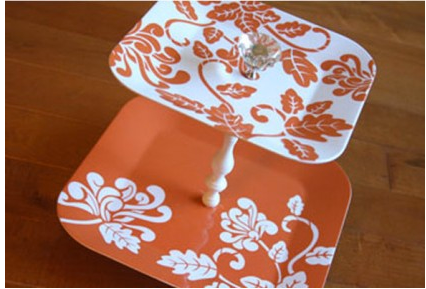 (Source)
I love how versatile this one is! You can just unscrew and switch out the parts to match your occasion or theme. Psst… Any excuse that directs me towards Anthropologie shopping is a VERY good thing.

(Source)
Not to split hairs but this picture is more of a cake stand in my opinion but you can easily make it a cupcake tier by building up and using various size plates. I have a feeling I know what will be on my next flea market list. Bud vases! Candlesticks! Take heed of Kate's note. No dishwasher for this one. Hand wash only.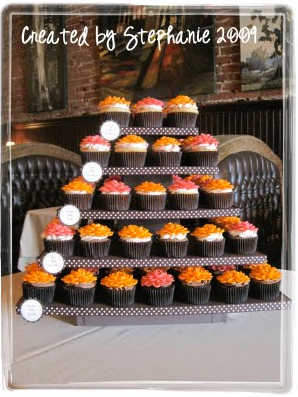 (Source)
I kinda new to DIY so forget projects that require power tools. I like all 10 fingers thank you very much. So this cupcake tier is right up my alley. Foam core boards. Ribbon. Paper. Glue stick. Totally doable. And it appeals to my current Modge Podge obsession. Genius.

(Source)
Another foam board one! With round cake boards. And glue stick! I am way too excited about glue sticks. *sniff* Kidding kidding! Check out Cake Journal's cake stand gallery (here) for more examples too.

(Source)
I'm TOTALLY digging this terra cotta pots and saucer one. Now I have something I can do with all those neglected terra pots I have in my garage that I didn't have the heart to throw away. RIP flowers. My black thumb is a gift. You wish you were as cool as me. Not.

(Source)
Whoa. This one requires MDF and power tools and things I've never heard of before. Hex nuts? Threaded rod? But I love the idea of being able to switch out the panels for any occasion or theme.
*************************************************
There you have it.
Lovely aren't they? Makes me feel so inferior with my lack of DIY abilities. But it's just easier to let Martha Stewart mass produce them and I buy them. HA!
I'd love to see if any readers try to DIY their own cupcake stand. Hit me up with an email.
Well… I'm off to find those terra cotta pots. Peace out cupcake nerds.
Create a free website or blog at WordPress.com. | The Pool Theme.
Entries and comments feeds.