November 10, 2008 at 11:51 AM | Posted in
cupcakes
|
37 Comments
Tags:
lemon
,
raspberry mousse
Happy Vanilla Cupcake Day!
Now for some reason I thought it was Lemon Cupcake Day and hence made a lemon-inspired cupcake. Doh! I figured you all wouldn't mind if I posted them anyways. But if you think about it. Its technically a vanilla cupcake with lemon juice and zest added in. Yeah… let's roll with that. HAHA
I'll have to remember for Lemon Cupcake Day to do a switcheroo and make a vanilla-inspired cupcake. Remind me, k?
My husband's bff's daughter's (you got that?) 1 year old birthday is coming up next weekend and you know I am making some birthday cupcakes. I am thinking pink. During my recent Costco trip I saw lemons by the 5 pound bag and raspberries by the case so I figured I'd go the lemon and raspberry route for taste test round one. I am thinking test taste round 2 will be chocolate and raspberry. Mmmm…
Isn't the ribbon a cute cupcake accessory? Which one do you like better? Gingham, pink circles or polkadots?

(Recipe adapted from Crazy About Cupcakes & Cupcake Bakeshop | photos from me!)
Makes about 12 cupcakes
INGREDIENTS
For lemon cupcake
1/2 cup (1 stick) unsalted butter, room temperature
1 cup sugar
2 large eggs, room temperature
1-1/2 cups AP flour
1/4 tsp baking soda
1/4 tsp salt
1/2 cup milk
1 tbsp lemon zest
1 tbsp fresh lemon juice or lemon concentrate
For raspberry mousse
2 cups fresh raspberries, rinsed (I used frozen raspberries, thawed)
1/3 cup sugar
1 tablespoon unflavored gelatin
2 cups heavy cream
3 tablespoons sugar
raspberries, garnish
INSTRUCTIONS
To make lemon cupcakes—
Preheat oven to 325F. Prepare cupcake pan with liners.
In a stand mixer with a flat beater, cream together the butter and sugar on medium speed until fluffy, about 3-5 minutes. Add the eggs one at a time to creamed mixture, beating 1 minute after each addition.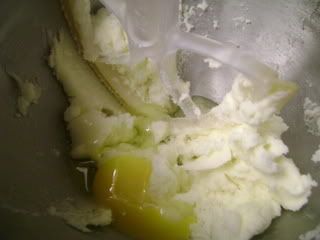 In a separate bowl combine the flour, baking soda and salt. Add the dry ingredients to the creamed mixture, alternating with the milk and ending with the dry. Mix until completely integrated. Add the lemon zest and lemon juice. Mix the batter for 30 seconds.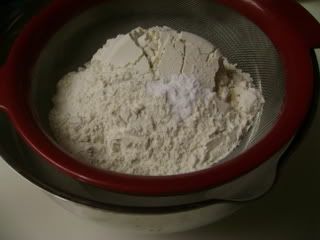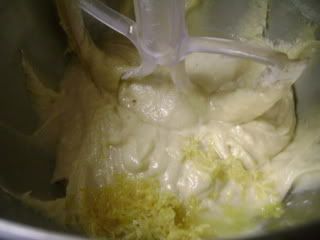 Fill the cupcake liners 1/2-2/3 full. Bake for about 17-20 minutes or until a toothpick inserted in the center of cupcake comes out clean. Cool cupcakes before frosting.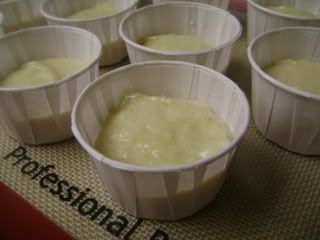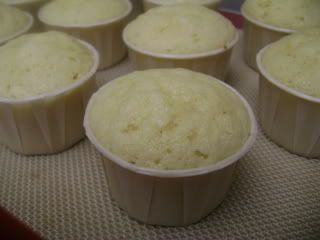 To make raspberry mousse—
Combine raspberries and sugar in a saucepan and cook over medium heat. Stir mixture until it is basically a liquid. Stir in gelatin, continue to cook until dissolved. Remove from heat and transfer to a medium sized bowl. Refrigerate overnight.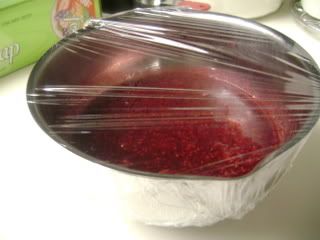 Beat heavy cream on high until stiff peaks form. Add the three tablespoons of sugar and beat until combined. Mix about a third of the whipped cream into raspberry mixture until well combined. Fold in remaining whipped cream.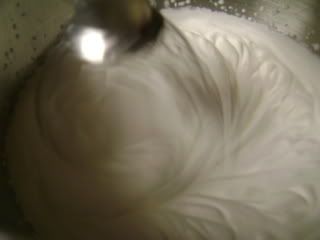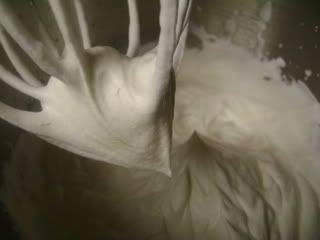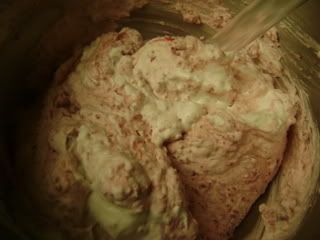 ENJOY!
Husband rating: A+
He liked the lemon cupcake but really raved about the raspberry mousse. He's not an insanely-sweet-brush-your-teeth-before-you-get-cavities frosting lover like me so the mousse was a very yummy alternative.
Wifey rating: A
Loved the lemon cupcake and the raspberry mousse was good. Its a good lighter substitute to buttercream or cream cheese frosting IMO. If you wanted to get a smoother looking mousse you could probably strain the raspberry liquid before adding the gelatin but I like the fruity chunks (it gives it character) so I left it in.
September 2, 2008 at 7:24 PM | Posted in
cupcakes
|
25 Comments
Tags:
crunkcakes
,
lemon
,
malibu rum
,
strawberry
I have a special place in my heart for crunkcake recipes. Maybe its the lush in me but I love me some alcohol. Please drink responsibly. What better way to "drink" your favorite booze than in a cupcake? You get the taste but not the hangover! Sweet! (Pun intended.)
Check out some of my other crunkcake recipes.
Midori Melon Mojito Cupcakes
Caramel Apple Martini Cupcakes
Red Wine and Chocolate Cupcakes
Question for my readers:
What are some of your favorite alcoholic drinks? margarita? daiquiri? Help me think of my next crunkcake!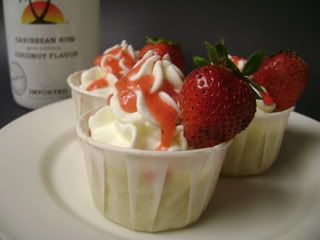 (Recipe adapted from OneImaginaryGirl | photos from me!)
Makes about 12 cupcakes
INGREDIENTS
For lemon cake
1 cup all-purpose flour
1/2 teaspoon baking powder
1/2 teaspoon baking soda
1/8 teaspoon salt
3/4 cups granulated sugar
4 tbsp (1/2 stick) salted butter, softened
2 eggs
1/2 cup buttermilk
1 tablespoon finely grated lemon zest
1 tablespoon fresh lemon juice
For malibu swiss italian meringue buttercream
2 egg whites at room temperature
1/8 teaspoon cream of tartar
1/4 teaspoon fresh lemon juice
1/2 cup sugar
1/4 cup water
12 tbsp (1-1/2 sticks) unsalted butter, cut into pieces and softened
1-2 tablespoons Malibu Caribbean Rum, coconut flavor, to taste
For strawberry puree
5 ounces frozen strawberries, thawed (I used fresh strawberries)
1 teaspoons sugar, more or less (to taste) (I used about 2 tsp)
1/2 teaspoon fresh lemon juice, more or less (to taste)
INSTRUCTIONS
To make cupcakes—
Preheat oven to 350°F.
Line pan with cupcake liners.
Combine the flour, baking powder, baking soda, and salt in a medium bowl and stir to combine.
In the bowl of your mixer, combine the butter and sugar and beat until well-blended on medium speed. Add the eggs, one at a time, beating well after each addition. Add flour mixture and buttermilk alternately to sugar mixture, beginning and ending with the flour. Beat in the lemon zest and juice.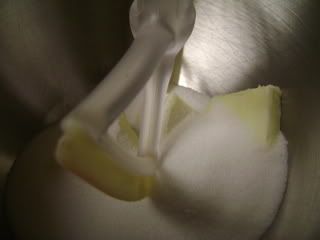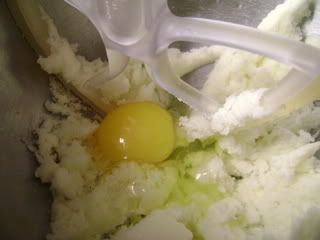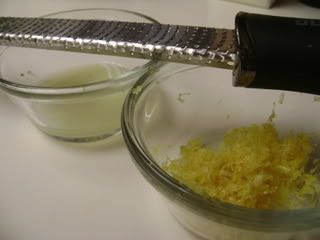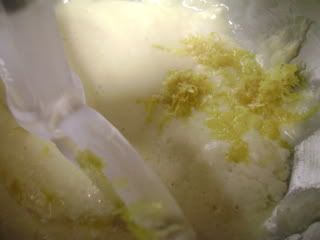 Fill each cupcake cup about two-thirds full and bake for about 17-22 minutes, or until a toothpick inserted in the centrer of a cupcake comes out clean. Allow to cool completely before frosting.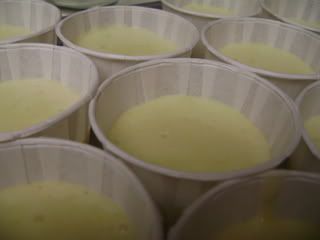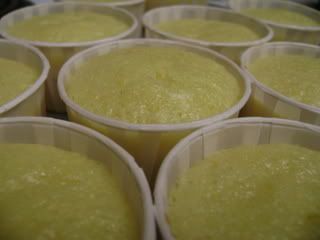 To make buttercream—
Beat the egg whites in the bowl of your mixer with the whisk attachment until frothy, then add the cream of tartar and beat just before stiff peaks form.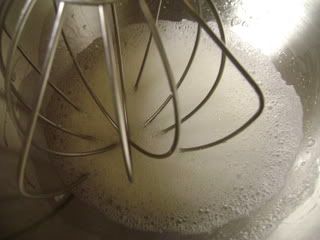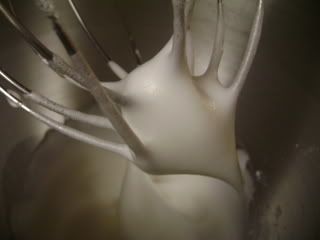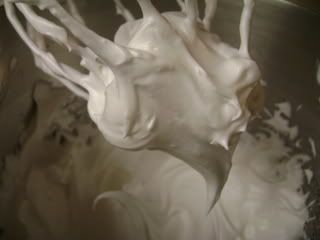 Meanwhile, stir together the sugar and water in a small heavy saucepan and bring to a boil over moderately high heat, stirring until sugar is dissolved and washing down side of pan with a pastry brush dipped in cold water. When syrup reaches a boil, put your candy thermometer into it and continue boiling, without stirring, until it reaches about 238-242 degrees Fahrenheit.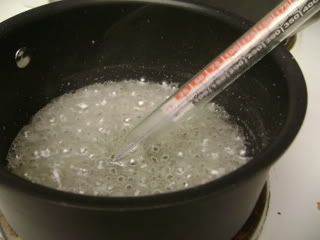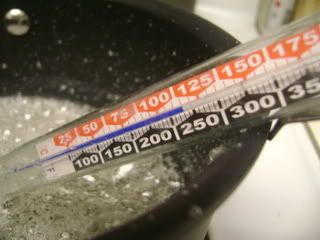 Immediately remove from heat, turn your mixer back on (if you had it off like me) and slowly pour the hot syrup in a thin stream into the egg whites, beating constantly at high speed and making sure to not pour directly on the side of the bowl. Beat meringue until the bowl is cool to the touch.
Change out your whisk for your paddle attachment and scrapes down the sides of the bowl. On medium speed, gradually add butter about two pieces at a time, beating well after each addition until incorporated. Continue beating until buttercream is smooth. (Mixture may look curdled before all butter is added, but will come back together before beating is finished. If that doesn't work, try chilling it a bit in case your meringue was too hot.) Finally, add the Malibu and mix thoroughly.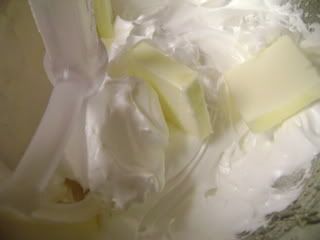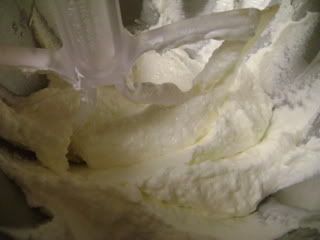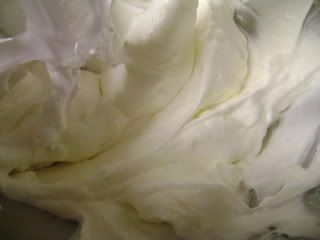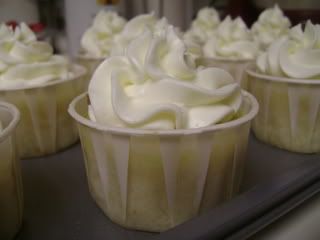 Mine looks curdled (top right picture) but I just kept beating and it all comes together eventually.
To make puree—
Place the strawberries and their juice into your blender. Pulse a few times until pureed. Stir in the sugar and lemon juice until it's the taste you want.
To assemble cupcake—
Pipe or spread on IMBC frosting. Drizzle some strawberry puree on top. Garnish with a strawberry.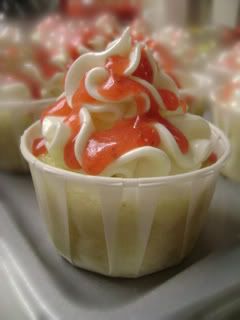 Don't mind me. I am learning to play around with blur on photoshop. Cool huh?
ENJOY! :)
Husband rating: A
He's not a strawberry-lemon addict like me but he really loved the Malibu SMBC frosting. He said it was smooth, light and melts on your tongue.
Wifey rating: A
Ditto hubs on the frosting. I have to admit… I ate alot of the frosting by itself. It was so good with the strawberry lemon cupcake flavors.
February 28, 2008 at 3:05 PM | Posted in
cupcakes
,
internet order
|
32 Comments
Tags:
lemon
,
lemon syrup
Sometime last week, my fabulous cupcake friend, Jessica, and I were gchatting and she mentioned that while she LOVES cupcakes, she isn't really a cupcake baker and asked if I take online "orders". I thought she was joking but when I realized she was serious, I got excited! Wow! My first "order"! (I've done a couple things for family but family really doesn't count right?)
She went on to explain, in a followup email, that she'd been eyeing some limoncello cupcakes that she saw on a blog many months ago and if I was interested in fulfilling her order…? Heck yeah! I was definitely up for the challenge!
Ironically I thought she was craving these cupcakes for the alcoholic content but when I mentioned that I was having a heck of a time finding a nip of limoncello for the recipe's glaze she had no idea that limoncello was a lemon liqueur! LOL. So we decided to adapt the recipe with a lemon syrup instead!
I was so excited to try this recipe out that I didn't realize that I had used up all of my PNCs! Can you believe it? That means I've made 250+ cupcakes already! Insane in the membrane! LOL. I'll have to remember to write a post-it to go get more this weekend but in the mean time for this recipe I reverted back to the cupcake liners of old – my silver foil ones.
In homage to Billy's Vanilla Vanilla Cupcakes, I give you Jessica's Lemon Lemon Cupcakes! ;)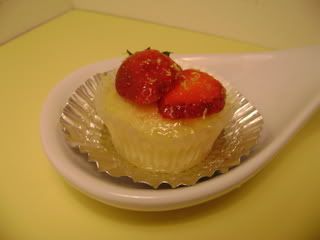 (Recipe adapted from Tea for One & Global Gourmet | photos from ©iheartcuppycakes!)
Makes ~10 cupcakes
INGREDIENTS
For cupcakes
1 cup AP flour
3/4 teaspoon baking powder
1/4 teaspoon salt
3/4 cup sugar
1/4 cup unsalted butter, room temp.
2 large eggs
6 tbsp buttermilk
1/4 cup fresh lemon juice (~1 lemon for me)
2 tbsp finely grated lemon zest (~2 lemon for me)
For glaze
1/2 cup sugar
Finely grated zest of 1/2 lemon
1/2 cup water
Juice of 1/2 lemon, strained
[NOTES: The lemon syrup recipe makes quite a bit so you could probably 1/2 the recipe if you are only making 10 cupcakes.]
For topping
3-4 large strawberries or 10 raspberries
INSTRUCTIONS
To make cupcakes–
Preheat over to 350 F. Line 10 cupcake pan with liners. Sift flour, baking powder, and salt into medium bowl.
Beat sugar and butter in large bowl until fluffy. Beat in eggs 1 at a time.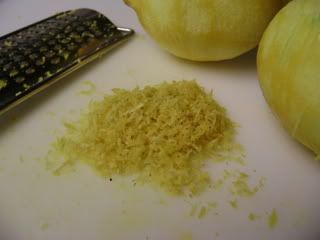 Beat in dry ingredients in 3 additions alternately with buttermilk in 2 additions. Beat in lemon juice and lemon zest.
Divide batter among liners. Bake cupcakes until tester inserted into center comes out clean, about 15-18 minutes. Transfer cupcakes to racks.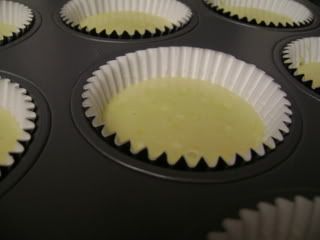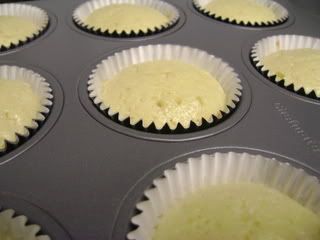 To make syrup–
Combine the sugar and water in a small saucepan. Bring to a boil. Reduce to a simmer and add the zest and juice. Cook until slightly thickened, about 10 minutes.
The syrup will keep for up to 2 weeks if refrigerated in an airtight container.
ENJOY! :)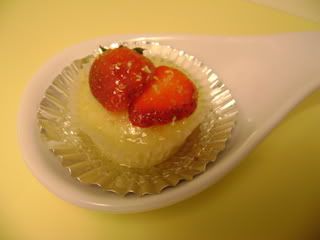 Husband rating: N/A
Wifey rating: A/A+
I wasn't sure if these would be too lemon-y but the "cake" reminds me of a lemon meringue pie filling taste in cupcake form. The syrup just enhances the lemon flavor. It went really well with the strawberry garnish.
Jessica, I'll be shipping out your cupcakes tomorrow! Be on the lookout for them! Thanks for your order!
———————————————–
I hope Jessica doesn't mind but I also wanted to enter these color specific cupcakes into my foodie friend, Zorra's, International Woman's Day Food Blog Event.
How to participate:
Cook/bake something yellow, take pictures (if possible) and blog about it on Saturday, 8th March 2008
Send an email to kochtopf(at)gmail(dot)com or fiordisale(at)gmail(dot)com including
– your name
– your blog's name and your blog's URL
– the recipe name and the post's URL
– your hometown/region and country
Don't forget to link back to one of the announcements.
Last day of submission is March 9.
p.s. Men are more than welcome to participate, too!
Blog at WordPress.com. | The Pool Theme.
Entries and comments feeds.